Lubrication and Protection in One
Traditional Lubrication: Traditionally, chains or wire ropes are lubricated with either oils or greases. Both of which have pros and cons.
Oil-Gel Lubrication: Oil-gel lubricant technology addresses the negatives of oils and greases and provides robust lubrication with surface protection.
Targeted Applications: Oil-gel technology can be used in any industry. Still, it can be extremely important in the food and beverage industry and outdoor applications in the woodyard, marine port, and mining industries.
Lubrication of Chains and Wire Ropes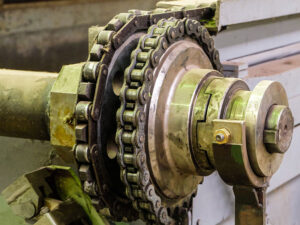 Chains and wire ropes are an integral part of many industrial setups. Inaccurate lubrication practices can result in excessive wear, corrosion, and contamination. It is very important to use the correct product for a desired application. A chain or wire rope breakage can result in unplanned downtimes and safety concerns. An ideal lubricant not only reduces friction but also protects the surfaces from corrosion and extends the life of the equipment.
Traditional Lubrication Practices
Traditionally, two lubrication practices have been followed to lubricate chains and wire ropes.
Oil lubrication
Grease lubrication
Oil lubrication of chains and wire ropes is critical for improving energy efficiency and reducing wear. Low-viscosity oil penetrates inside the chain links and wire strands to provide proper cushioning. The oil application process is very easy and convenient. However, in severe industrial conditions with high water exposure and corrosive vapor attack, the oil can be easily washed out, resulting in excessive corrosion and wear. At the same time, oil drips on adjacent surfaces, causing contamination and safety hazards.
On the other hand, grease-lubricated chains and wire ropes can perform extremely well in terms of surface protection. A thick layer of grease is very difficult to displace even in severe industrial conditions so it can provide very good corrosion resistance. But, when it comes to penetration, grease cannot deliver. Due to its thickness, grease cannot enter the small crevices of chains and wire ropes and hence cannot lubricate the surfaces effectively. Also, the grease application procedure is not as easy as an oil application for chains and wire ropes.
Oil-Gel Lubrication
To address the drawbacks of traditional oil and grease lubrication for chains and wire ropes, in recent years, a promising new technology of OIL-GEL has been getting more attention. It is a self-clinging gel-like material that is thin enough to penetrate through the internal workings of chains and wire ropes but thick enough to prevent displacement by water. A grease is carefully diluted to meet the chain or wire lubrication needs and to improve flowability by adding oils, polymers, and solvents.
Advantages of Oil-Gel
Lubrication with Protection: The oil gel can penetrate the microscopic clearances in wire ropes and chains. The solvent evaporates, leaving an adherent film on the surface. The leftover film provides excellent lubrication and protection from water and other environmental conditions.
Safety and Cleanliness: Oil-gel forms a dripless coat on a surface due to its higher consistency than oil, thus reducing the contamination on adjacent surfaces. It also improves housekeeping and safety by reducing tripping hazards caused by the dripping of traditional oil on the floor.
Applications
Oil-gel lubricant can be used in any industry for a chain and wire rope application. However, this product can be extremely useful in industries with low contamination tolerance. Industries such as food, beverage, and pharmaceutical companies must use a lubricant that does not drip and contaminate the surfaces around chains and ropes.
At the same time, these industries wash the surfaces with detergents daily or weekly to maintain cleanliness standards and meet the codes. Traditional oil gets easily washed out during the cleaning cycle. Oil-gel stays adhered on the surface, reducing the relubrication frequency.
Outdoor applications at marine ports, shipyards, woodyards, and mines can also benefit from water-resistant, durable lubrication film that oil gels form on the surfaces.
Chesterton's New Oil-Gel Product
One of the promising products in this category is Chesterton's 720 CCG (Chain Cable, Gear) Lubricant. This product is made with food-grade ingredients and is NSF H1 registered. It is an extremely high-performing product with a load-bearing capability (ASTM 2596) that exceeds 800 kgf and a salt fog corrosion resistance (ASTM B117) of more than 1000 hours. It has excellent water washout resistance compared to traditional oils.
This product comes in two consistencies. The lower viscosity version can be used for chains and ropes, whereas the higher can find application in gear mechanisms.
720 CCG can solve common lubrication issues such as wear, corrosion, water washout, contamination, and safety. Thus, it can improve the life of chains and wire ropes and reduce unplanned shutdowns due to breakages.
For more information on the product, contact our experts.